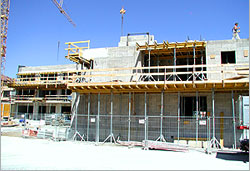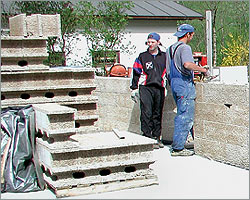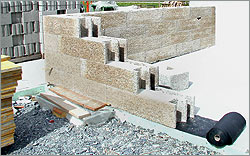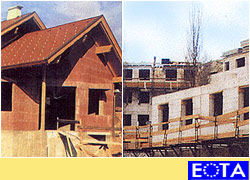 ETA - PRODUCT DESCRIPTION
ETA = European Technical Approval. The ETA certificate certifies that all international provisions and requirements are met:
DOWNLOAD
ETA.PDF [250kb]

Patented product made of wood-chip aggregate concrete.


Excellent thermal performance: Insulation ranging from 10 to 16 cm.


Concrete fill acts as a thermal store, the heat stays inside the house.


Value without cement fill or plastering of walls: U-Value 0,23


Sound proof: giving rise to a comfortable, quiet environment.


Fire resistant and shuttering system, tested in earthquake areas.


Breathability - no risk of interstitial or surface condensation.


Environmentally compatible and 100% recyclable: no chemicals used.


No CO² emissions during the production process, more CO² absorbed than emitted.


Construction system - easy to use.


ETA - INSTALLATION GUIDE
The installation guide is deposited at DIBt (Deutsches Institut für Bautechnik Berlin / german institut of structural engineering) - member of the EOTA (European Organisation for Technical Approvals) and of UEAtc (The European Union of Agrément).
The installation guide shall be present at every construction site. The manufacturer shall ensure that the requirements are made known to those involved in planning and execution. If the manufacturer's instructions contain other specifications than those stated here, the specifications of the ETA shall apply. This installation guide is an excerpt of the ETA certificate (pages 11 to 14):

DOWNLOAD Installation_guide.PDF [160kb]



Installation of the hollow blocks


Installation of the reinforcement


Preconditions for the installation of reinforcement


Concreting


Reworking and finishes


Fixing the objects
Thermal Resistance

The nominal value of the thermal conductivity of wood chip aggregate concrete has been determined in the same manner as for the insulating materials according to European standards. (Please see pages 7 and 8 of the ETA certificate.)
EPBD - Energy Performance of Buildings
A new Energy Performance of Buildings Directive (EPBD) has been passed into Irish and European law that is set to place unprecendented demands on energy performance of virtually all buildings in Ireland. This will lead to energy efficiency becoming an integral design concern for virtually every category of buildings, and is destined to convert a building's energy performance into a factor that significantly effects its value. Thermo Eco Block Ltd. fullfill the criteria for the energy performance of buildings and even performs better than the required performance.

DOWNLOAD EPBD_directive.PDF [130kb]