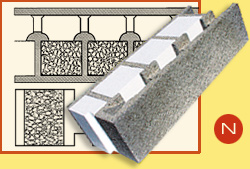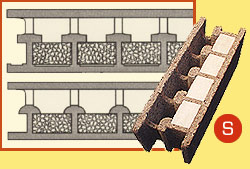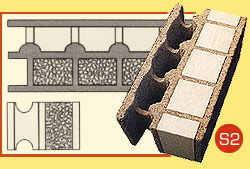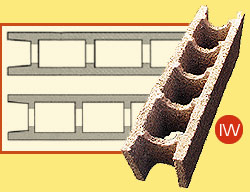 Thermo N for external walls
Type: 38/19,4

width: 38cm/ length 100cm / height 25cm
styrofoam (CFC free): 19.4 cm
corner block: 88 cm
block weight: 21 / 22 kg
concrete core width: 12 cm
weight of wall (plastered): 325 kg per mē
number of blocks: 4,2 per mē
amount of concrete: 85 litres per mē
thermal transfer (U-Value): 0,17 W per mē K
heat-transmission resistance: 4,82 KW per mē
special web insulation inside (WDV): cross web
fire resistance period: t 90 min REI
Thermo S super for exterior walls
Type 30/10 and type 32/11 PDF diagram S+S2 [80 kb]

width: 30 / 32 cm | length: 115 cm | height: 25 cm
styrofoam (CFC free): 10 / 11cm
corner block: 99 / 101 cm
block weight: 21 / 22 kg
concrete core width: 13 cm
weight of wall (plastered): 350 / 341 kg per mē
number of blocks: 3,7 per mē
amount of concrete: 96 litres per mē
thermal transfer (U-Value): 0.34 / 0,31 W per mē K
heat-transmission resistance: 2.74 / 3.09 KW per mē
special web insulation inside (WDV): cross web
fire resistance period: t 60 min REI
Thermo S2 for exterior walls
Type 38/16

width: 38 cm | length: 100 cm | height: 25 cm
styrofoam (CFC free): 16 cm
corner block: 88 cm
block weight: 21 kg
concrete core width: 12 cm
weight of wall (plastered): 345 kg per mē
number of blocks: 4,2 per mē
amount of concrete: 93 litres per mē
thermal transfer (U-Value): 0.23 W per mē K
heat-transmission resistance: 4.18 KW per mē
special web insulation inside (WDV): cross web complete
fire resistance period: t 60 min REI
IW for load-bearing interior walls
Type 20/13 (and other) PDF diagram IW [120 kb]

width: 20 cm | length: 100 cm | height: 25 cm
styrofoam (CFC free): —
corner block: 95 cm
block weight: 15 kg
concrete core width: 13 cm
weight of wall (plastered): 370 kg per mē
number of blocks: 4,1 per mē
amount of concrete: 113 litres per mē
thermal transfer (U-Value): 1,23 W per mē K
heat-transmission resistance: 0.63 KW per mē
special web insulation inside (WDV): —
fire resistance period: t 60 min REI

***
Each sort of block can be cut on site with an electrical saw and shaped easily. Type IW (for inner walls) can also be used for exterior walls if heat insulation is added.
Definition of the construction product

There are two forms of blocks for standard elements. The first form are hollow blocks with two full length hollow spaces, the second with one or more closed full-length hollow spaces in the middle and at each end there is an open hollow space of half of the length. Only for the first type the vertical mating surfaces are tongue and groove to form a tight fit when joined together. Also for the horizontal surfaces a form fit is not foreseen but the static friction between the surfaces is high enough to avoid sliding when stacking the hollow blocks together and placing the concrete in the wall. The length of the elements ranges from 500 mm to 1250 mm and the height is 250 mm.

Hollow blocks with a thicker outside shuttering leave or inserts of thermal insulation are generally used for external load-bearing walls. The thickness of the outside shuttering leaves of the hollow blocks ranges from 25 to 125 mm. The inner leaves are 25 mm to 45 mm thick. Hollow blocks with equal thickness for the inside and outside shuttering leave are also used for internal walls.

The maximum thickness of the space for the concrete core is 230 mm, the minimum thickness 190 mm. Special hollow blocks as end blocks and angular blocks are also part of the system. Lintel elements are made of normal elements by cutting one web outside and all the webs inside the hollow block. The maximum height of the shuttering leaf of such a lintel element shall not exceed 50 cm.